This is Our
Mission Statement
At Ultra Mobile we develop the most innovative, customer-centric and cost-effective mobile communications solutions in the industry. With our creativity, passion, and energy, we seek to better ourselves, our families, our business and the global communication industry as a whole.

These are Our
Core Values
1.
Ownership
We are all owners, be the
outcome and get the job done
2.
Action Biased
Be brilliant, proactive,
and act with urgency
3.
Embrace the Adventure
Be agile, adaptive,
and thrive on change
4.
Invent and Simplify
Never accept
good enough
Life at Ultra
We're Here to Win
Ultra's unique culture starts with our goal to be great. We're not just here to succeed—we're transforming our industry.
Entrepreneurial environment
Focus on innovation + customer value
Handbuilt centers of excellence
Cutting-edge software dev
In-house creative team
Leadership training + career development
We Got You
We're invested in our people. One of the ways we show it is with Fortune 500-level benefits that help you lead an Ultra life.
Generous health plans
401k matching
Tuition Reimbursement Program
Paid holidays + unlimited vacation
Parental leave
Where We Kick It
With offices in both sunny SoCal and electric NYC, we're doing the bicoastal thing right.
Costa Mesa, CA

30,000 sq. ft. of creative, open space
Part of thriving OC tech scene
Commutable to/from LA or OC
Free EV charging stations
The Fun Stuff
We think the best way to do great work is to stay engaged. Sometimes that means getting up from your desk and just doing your thing.
Gaming room
Yoga and weight rooms
Fierce ping pong breaks
Drinks, snacks and daily lunches
Casual dress (with plenty of Ultra swag!
Dog-friendly crew
Company bikes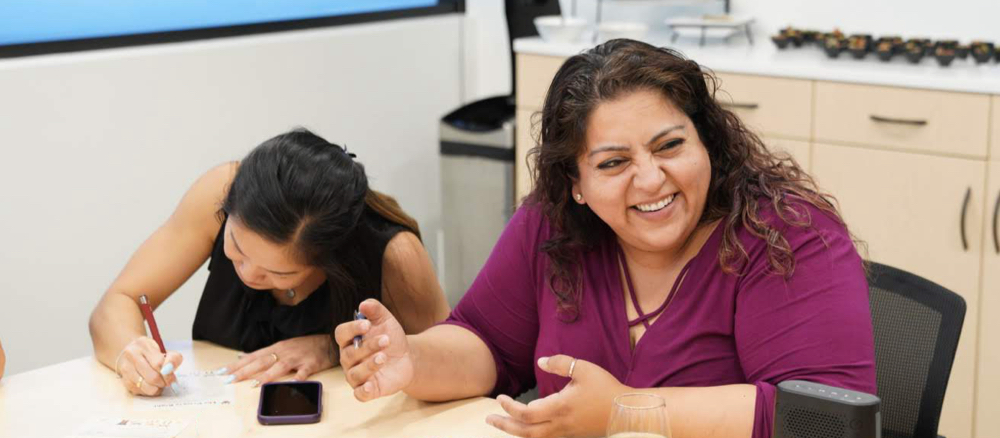 We Love Our Humans
You can't have an awesome company without awesome people. Bringing together the very best humans in the world is a responsibility we take pretty seriously around here.

Courtney Prather
Copywriter
Marketing & Creative
As a Copywriter, Courtney mostly spends her time drinking espresso and crafting creative concepts and content (say that 5x fast) for both the Ultra and Mint Mobile brands. Brainstorming for both brands' social, web and TV presence, naming new products and writing from the perspective of a clever, Mint green fox are a few of her favorite things to do at work. When she's not playing office DJ or getting her sweat on in the workout room, she loves collaborating with designers and animators on new opportunities to bring the Ultra brands to life.
"Writing for two brands that customers love to interact with has been a thrill to watch and be a part of."
Kamron Erani
Software Engineer II
Engineering
Kamron joined Ultra initially as a Software Intern in spring of 2017 and dug it so much he joined as a full-time software engineer in 2018. Kamron keeps Ultra running smoothly by improving interfaces that are used daily by our Care team, developers, subscribers and Tech Ops department. He enjoys challenging his fellow Ultras to a ping pong match, keeping up on new tech and building robots in his free time. His favorite part of life as an Ultra is the world class cuisine.
"The people I work with are all really smart and passionate, always pushing themselves to learn new things and share that knowledge with the rest of the engineers. I think everyone at Ultra is great."
Sarmen Tsaturyan
Account Executive
Sales
Sarmen gets his hustle on as part of Ultra Mobile's busy Southern California sales team. Working out in the field most days, he can often be found meeting with our Retailers for one-on-one time, where he can help them to identify goals, merchandise their stores, train employees and more. Sarmen loves the trust he feels from the Retailers and knowing he can help them succeed.
"Ultra is always open to trying something new and out of the box. That's what makes us different."