Welcome to Ultra Mobile's Fall Refresh! We're unveiling new Ultra plans, making important changes to existing plans, plus announcing Ultra's brand new way to do data. Keep reading, and learn everything you need to know about all the excitement happening at Ultra!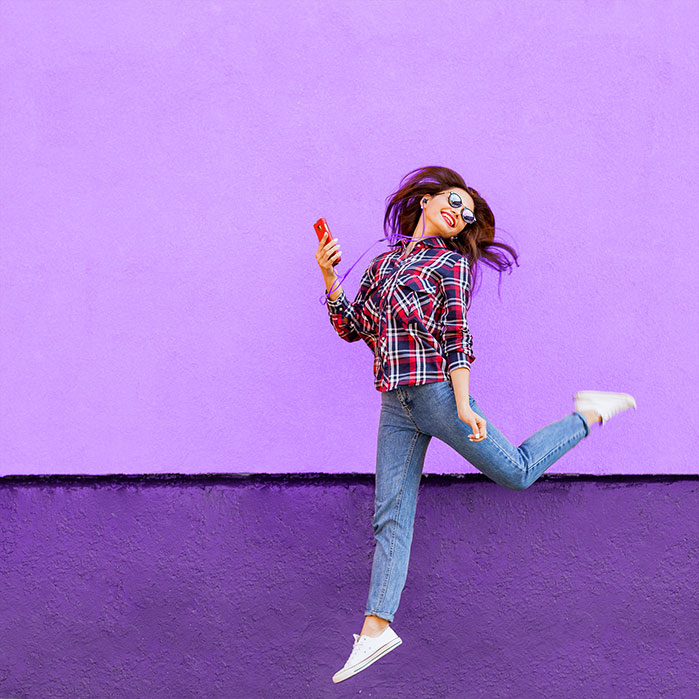 New Plans
First of all, we're expanding our Ultra offerings by bringing our customers two new plans!
Our new $24 plan is perfect for budget-minded users who mostly use their phone for international calling, and rarely use data. The $7 Call
Anywhere credit makes this plan a great choice for callers to destinations like Bangladesh or Nigeria – the $7 works out to 350 minutes per month for
Bangladesh mobiles, and 233 mobile minutes to Nigeria. The new $24 plan includes:
Unlimited Talk to the US and 30+ International Destinations
Unlimited Global Text
100 MB of 4G LTE Data
$7.00 Call Anywhere Credit
The other new Ultra plan is $54. This plan provides users with a huge amount of data, as well as a generous $20 Call Anywhere credit.
Here's what's included in the $54 plan:
Unlimited Talk to the US and 30+ International Destinations
Unlimited Global Text
Unlimited Data with 2GB of 4G LTE
$20.00 Call Anywhere Credit
Data My Way
In addition to new plans, Ultra's got a whole new way to do data!
Imagine a car that can only drive at two speeds: 100 miles per hour, or 0 miles per hour. A car like this would be wasteful and pointlessly expensive,
right? Your phone's data works exactly the same way – it's either going at full speed, or it's off. At Ultra, we know there's a better
way… and we call it Data My Way.
With Data My Way, you have a choice of three different data speeds, and are free to switch between them at any time to suit your own data needs. For
instance, if you're mostly just using your phone for simple things like checking email, you can turn it down to "Super Saver." When you know you're going
to be using your phone for navigation or lots of web searches, it's a good idea to turn it up to "Full Speed." By slowing down your data speed during times
you're not using it, and speeding it up during the times you are, you'll be able to make the most of the data in your plan!

Here are the three available speeds:
Full Speed: Maximum speed allowed by your phone
Optimized: > 1.5 mbps (1536 kbps)
Super Saver: 1 mbps (1024 kbps)
Please note: All customers who join Ultra after September 1, 2016, will automatically be set to the "Optimized" data speed. If you became an Ultra
user before September 1, 2016, you are automatically set to "Full Speed" data. However, please note that all Ultra subscribers are free to
change data speeds at any time. Just log into your account and adjust your speed any time you want, as often as you want!
Calling Rate Changes
Ultra's fall refresh also brings changes to some of our destination rates!
For all $29, $39, $49 and $59 Ultra subscribers, Bulgaria Mobiles are now unlimited!
More good news: Per-minute rates are decreasing for the following destinations:
Dominican Republic Mobiles
Ecuador Mobiles
El Salvador Landlines and Mobiles
Guatemala Mobiles
Honduras Landlines and Mobiles
Nicaragua Landlines and Mobiles
Paraguay Landlines and Mobiles
Peru Landlines and Mobiles
Finally, the following destinations will see their per-minute rates increase:
Cameroon Mobiles
Costa Rica Landlines and Mobiles
Ecuador Landlines
Guatemala Landlines
For details on the new per-minute rates for each destination, please visit our International Rate Checker page.
No Longer Available
To make our new plans as affordable as possible, we've had to make some tough choices.
Starting September 1, 2016, the "Ultra Zero" destinations will stay available for existing Ultra subscribers who have it on their plan. However, Ultra Zero will no longer be available to newly-activating customers.
For all $29, $39, $49 and $59 subscribers, the following destinations will no longer be unlimited:
Indonesia Landlines
Portugal Mobiles
France Mobiles
Germany Mobiles
With the addition of our new $24 and $54 plans, we've had to make the difficult decision to discontinue our $49 plan. All current subscribers on our $49
plan may keep their plan as-is. However, if they do decide to change plans, they WILL NOT be able to switch back to the $49 plan.
We know this is a huge amount of information, and are happy to answer whatever questions you may have. Feel free to contact Ultra at any time – chat
online with a representative by clicking the LiveChat box in the lower right hand corner, send us an email at support@ultramobile.com, or call our Customer Care line at 888-777-0446.